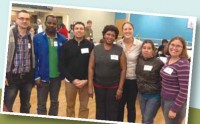 Students and Staff Serve Together
English and citizenship students, Blerim, Abrahim, Jose, Elizabeth, and Elida, and their instructor at the Center for New Americans Kadie Becker, had an opportunity to learn about poverty and hunger in America when they served the evening meal at The Banquet on February 27 alongside Augustana College students.
While serving in the food line, washing tables, filling endless requests for more coffee, water and milk, and finally sharing a meal with The Banquet guests, these students were able to see first hand the face of hunger in America, but more importantly, how volunteering can make a difference in the lives of others.
As one of the volunteers in charge of refilling the milk, coffee and water pitchers, Jose shared his thoughts about The Banquet. "It's a good place," he said. "A good place for people to get food who don't have it."
According to instructor Kadie Becker, serving at The Banquet is always rewarding, but also challenging. "One leaves with a full belly and tired feet, but also a helping of sadness, desire for change and a sense of
urgency," she said.
When the doors closed, Kadie and the students had served a total of 273 guests including 22 children, and 18 gallons of milk – and also experienced the joy of being of service.
"It was a really unique experience to serve alongside our learners and I hope we will do it again soon!"
- Kadie Becker, English as a Second Language instructor at the Center for New Americans
To learn more about LSS Center for New Americans, click here.