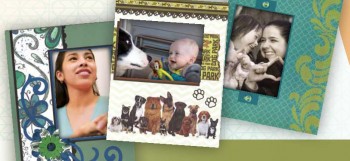 Lifebooks Celebrate the Past, Present and Future
Middle school students from Renner Lutheran Church attending the Augustana College Faith Fest made their own happy memories while creating Lifebook pages for children in LSS Foster Care and Residential Programs.
In only one hour the group of 13 youth and five adult volunteers completed 49 artsy Lifebook pages to help
foster kids hold their photos and childhood memories.
A Lifebook contains specific information about a child's birth, birth family, culture, school history, places they have lived and much more. Often, children in foster care may not have someone who knows all about them, including things like where they were born, their biological grandparents, when they lost their first tooth or what their favorite food was when they were eight.
Lifebooks are intended to help children keep track of their life's path. "A Lifebook simply brings a child's past, present and future together," says Dede Mogck, director of LSS Foster Care Services. "A Lifebook is always a 'work in progress' in that a foster parent and a child add to the book as the child reaches different life stages."
Lifebooks help children in foster care, adoption, or other out-of-home placements to fill in the gaps of their life stories. Knowing their story helps them to understand who they are, increases their self-esteem, helps them set goals and look to their future. Lifebooks also can be used as a tool to talk about difficult subjects and can help children prepare to return to their birth families or to possibly move to adoptive families.
This motivated volunteer group from Renner had a great time while using their creative talents for a worthy project. Thank you Renner Lutheran Church and Augustana College for the hard work and for helping foster kids hold onto their memories and define their life stories.