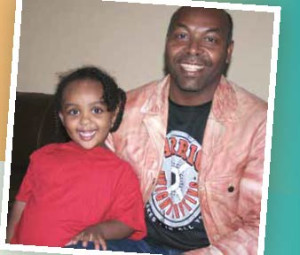 "I want my children to have a better life than I have lived." – Maru Genemo
Since its inception nearly 100 years ago, LSS has been about the children. It's no different for Maru Genemo and Aster, his wife. Since the birth of their first child Yerosan, it's been about their children. "I want my children to have a better life than I have lived," says Maru.
Originally from Ethiopia and a teacher and minister by profession, Maru fled his homeland after the government persecuted his father and brother.
Maru then fled to bordering Kenya. Over the span of 11 years, Maru endured the unimaginable. He lived in refugee camps located in Nairobi and Kakuma, Kenya. He tried to do what was right by following the rules, but was faced with corruption and despair in his search for safety.
In 2011, the Genemos came to the United States and were resettled in Maryland. Although Maru's family was safe, he couldn't provide for them as a dishwasher. "I work hard and I want to be self-sufficient," he said. He learned from his friend in South Dakota that Sioux Falls was more affordable to live and jobs were available. He came to Sioux Falls and LSS helped his family with English classes, school enrollment and employment. Maru continued to work independently at advancing his skills and currently works as a welder.
"Although LSS didn't resettle the Genemos directly, we help many refugees like them," says Betty Oldenkamp. "The Genemos represent all that is good with refugee resettlement. They work hard. It is important to them to be self-sufficient. They contribute to and are active in our community in many ways."
One look into the eyes of his children is proof of Maru's commitment to providing a safer, happier and better life for them. Their eyes are full of life, joy and happiness. Born in Kenya, Yerosan is now 10 years old, Hawinet is eight, and Tanan is five. Little Yadi was born in the United States and is two years old.
They currently attend LSS Hilltop after-school and summer programs. "I love spending time with this family of children," says Heather DeWit, Director, LSS Childcare & Education. "They are respectful, kind, creative, full of life and deeply caring. It is a pleasure to partner with parents that value education, respect and hard work so strongly." Hilltop partners with the Sioux Falls School District to serve children attending the Immersion Center.
"I tell them to be smart, read fast and be active," says Maru. "Hilltop helps my children in nice ways. They are growing in a very good way. They are good readers and swim like fish. I ask them every day what they learned. They write stories every day and read them out loud to me."
It is testament of Maru's love, dedication and commitment to his children. They are thriving in spite of spending their early childhood in refugee camps.
"They make me proud," says Maru. "It is my dream. I don't want to pass hardship to my sons and daughters. I want to see my children's lives better than mine."
The Genemos helped to found a Christian church that meets at Grace Lutheran in Sioux Falls where Maru continues to minister in his native language Oromo. His wife sings for services and Yerosan plays the keyboard.
"All my children say God Bless America," says Maru. "America is good."