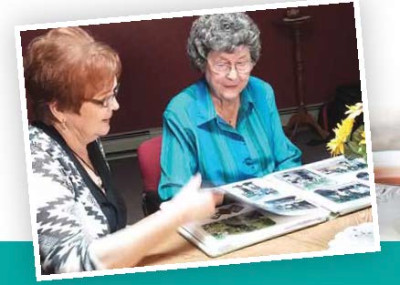 Better Together is a new LSS program designed to connect older adults to their community and help them build social relationships, ultimately improving their quality of life. The older adults in the program are referred to as neighbors. "It's something that is really needed," says Lois Schrader, 88. "I thought this would be helpful."
Through the program, trained volunteers are matched with neighbors based on similar interests and schedules. Lois and her volunteer Mary Beth Jacobson have found they have many common interests, most of which involve food. They like to go out to eat and have made plans to visit parks, do activities and see performing arts. "I like being able to assist someone and make a new friend," says Mary Beth.
Volunteer and neighbor matches spend four hours per month together going on outings, talking, pursuing hobbies and participating in other relationship-building activities. With such a sweet smile and disposition, Lois says, "I guess I like to talk." She is definitely a people person and enjoys the interaction.
Today, there are 26,000 people in the Sioux Empire who are age 65 or older. Of that group, 46 percent live alone. Feelings of loneliness can contribute to reduced physical health, cognitive decline and dementia.
"We see the difference that a volunteer can have on a child through our school-based and USucceed Mentoring Services," said Michelle Madsen, LSS Mentoring Services Director. "We are replicating those relationships with neighbors in the community who need extra support and friendship that a volunteer provides."
"A project like this for older people is wonderful. LSS picked up the ball and ran with it," says Lois. "I think it's going to grow. I hope it does. I'm thankful to the United Way for helping to support Better Together and LSS for operating the program."
For more information on program criteria, visit our website or contact the LSS Better Together program at 605-221-2403 or email Mentoring@LssSD.org.