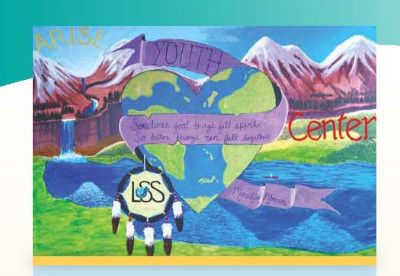 The Arise Youth Center in Rapid City is now home to a heart-centered mural created by youth involved in programs at the center.
The center of the mural, much like the focus of Arise Youth Center, is the heartbeat of youth. The idea of the mural came from a young client who also created the original heartbeat artwork. Local artist Daryl No Heart worked with this youth and 36 others to create the mural over the span of a month. It reflects not only the heartbeat of its creators, but also the focus of Arise Youth Center — to engage youth in the process of learning, growing and taking part in positive social structures.
Recently completed, the mural is an inspiration. Although the youth couldn't sign their artwork to ensure their confidentiality, they could leave their artistic heartbeat. One young girl who returned to the center commented to the new contributors, "We can't sign our names, but we can create something unique to us so we won't ever forget we were here."
"A mural is one of the easiest ways we are able to show youth that they matter to our program and that their suggestions and opinions matter," says Staci Jonson, program director. "The process united groups of youth who were not at the center together and are likely never to meet. The mural met the original purpose and many goals that we could have never imagined."
This mural was made possible by working with the Rapid City Arts Council and artist Daryl No Heart. Financial support was received from Amber Leasure, Brianna Myers, Rick and Connie Rathert, Pastor Jonathan Steiner and Atonement Lutheran in Rapid City, and Pastor Craig Wexler and Community Lutheran in Hill City. Together, we have a common mission of strengthening individuals, families and communities.