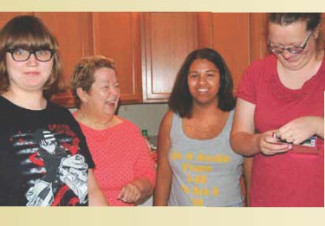 LSS New Alternatives provides a safe housing experience for clients while they learn the life skills necessary to manage their mental illness and to successfully live on their own. "The importance of donor and volunteer support and the impact it makes on those we serve cannot be overstated," says Betty Oldenkamp, LSS President/CEO. "For those who experience challenges on life's journey, every kindness and resource that we receive is put to good use. We are thankful for all of our donors, volunteers and supporters."
Thank you to Beth-Anne Ferley for your knowledge of gardening and plan to teach our young people how to grow nutritious food ingredients and to take pride in growing fresh ingredients for their meals. Thank you to DeMaris and Erv Nesheim for donating the necessary funds to remodel client apartments. Your gift allowed LSS to replace kitchen cabinets, flooring and furnishings in eight apartments. Because of your generous support and financial contribution, these apartments became homes to prepare meals and welcome others around the tables.
Thank you to Betty Kozur-Baker for taking your time and talents in the kitchen to teach our young adults how to make nutritious, cost-effective and delicious meals. Nothing says home more than a warm meal as evenings get cooler. Thank you to Desyl Peterson for sharing your grandmotherly presence and knitting skills with our young people of New Alternatives. Our young people can take pride in knitting dish cloths for their new kitchens and looking very stylish in knitted scarves this winter.