Become a Mentor Today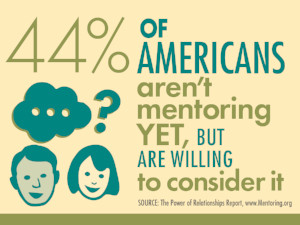 When thinking about mentoring youth, it's important to know the steps. Lutheran Social Services walks you through the entire process. Our goal is to make sure applicants understand what is expected of them. Ultimately, we work to pair the right people together in the best interest of the student.
44% of Americans aren't mentoring yet, but are willing to consider it. Here's how it works.
Step 1: Application

Complete an application and background release form. Submit online, mail or fax the completed application to Lutheran Social Services using the contact information on the form. Please be sure to complete all blanks on the application before submitting!

Step 2: Background Screening

First, applicants must successfully complete a background screening. This includes a criminal records check, outstanding warrants check and personal reference checks. Volunteers are then sent an email indicating that they have cleared the application process and are ready for training.

Step 3: Training

Mentors must attend a mandatory training and orientation session before their first interaction with the student. This is an informative session that prepares everyone for success.

Step 4: Matching & Meeting

School personnel work in cooperation with LSS Services. Together, they match the mentor with a student. They also work with mentors to schedule the best time.
The Everyday Heroes program takes place at various times throughout the school day and can vary according to your schedule. For example, many choose to meet over the lunch hour.

Step 5: Mentoring

In the Everyday Heroes program, students work with their mentor to decide what they will do at each meeting. They may be involved in a variety of activities, including:
• working in the computer lab
• reading a book
• playing basketball at the gym
• eating lunch
• playing games
• completing art projects
• or just "hanging out"
Be a mentor and help a child. Here's what some have said about their mentoring experience.